From Scrapbooks to Cyberspace: Torbay Voluntary Women's Groups' Memories
In October 2001, the Torbay Heritage Committee supplied local community-based voluntary women's groups with scrap booking supplies, and requested that they create a history of their organizations. Since October was Women's History Month with the theme "In Praise of Canadian Women Volunteers," in observance of International Year of Volunteers 2001, it seemed an opportune time to start this type of project.
Scrapbooks compiled by the Catholic Women's League and Anglican Church Women have been completed and deposited in the Torbay Museum.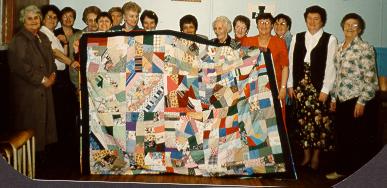 When the Canadian Heritage Information Network (CHIN), invited the Torbay Heritage Committee to participate in a pilot project called Community Memories to create computerized multimedia archives, the women's scrapbooks became the basis for our first digital archive. Our job was to create a digital archive, in the process testing and reporting on the software supplied by CHIN, so that it can be improved and made available to other small heritage institutions across Canada.
Along with the contents of the CWL and ACW scrapbooks, photos of Torbay Brownies and Girl Guides circa 1980 and pages from the guest book from the official opening of Camp Carey off Bauline Line 1975, have been entered into our Community Memories Archive.
Well known community figures appear amongst the over 200 images in the archive. These include Bill Manning, Torbay's late first mayor; our current Deputy Mayor, Peggy Roche, an active member of the CWL; Sister Winifred Power, who lived at the former St. Michael's Presentation Convent and taught at Holy Trinity for many years; and the late Pat McGrath, who was a familiar singing voice in community concerts and the Holy Trinity Church Choir, and frequently entertained Brownies.
The Heritage Committee looks forward to expanding the archive, sharing it and working on new themes.
Visit our Scrapbook History virtual exhibit on the Community Memories Section of the Virtual Museum of Canada!